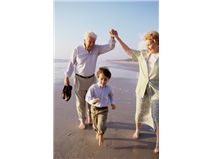 Elder Law Attorney
Serving Queens, Brooklyn, Staten Island, Manhattan, Bronx,
Westchester, Nassau and Suffolk Counties

For over a decade, Kerry O'Shaughnessy Montaigne, Esq. has dedicated her practice to Elder Care Law, Guardianship Matters, Estate Administration and Planning, Real Estate Closings and Business Formations. Ms. O'Shaughnessy Montaigne advises clients on Medicaid Planning and protecting family assets based upon each family's unique situation. These services include advice on asset transfers and the corresponding ramifications of such transfers, preparation of Medicaid applications, implementation of Medicaid Planning strategies, commencement of Guardianship proceedings under Article 81 of the Mental Hygiene Law, preparation of all documents for qualification as a Guardian, and preparation of Annual and Final Accounts of the Guardian. Her services also include the drafting and execution of Wills, Living Wills, Health Care Proxies, Powers of Attorney, Irrevocable, Revocable and Supplemental Needs Trusts.

Ms. O'Shaughnessy Montaigne is experienced in all aspects of Elder Law and Estate Planning. Her focus is on helping her client to become informed about various planning methods and for the client to choose the course that provides the client with the most benefit and the most peace of mind.

Ms. O'Shaughnessy Montaigne provides personal service to each of her clients. She feels that the client must have a comfort level with the attorney that is built on trust. After the initial consultation, clients are welcome to call or email with any follow-up questions or concerns. Ms. O'Shaughnessy Montaigne welcomes the opportunity to help you and your family through what can be a very trying time and to assist you with the preservation of your families assets for the next generation.

Ms. O'Shaughnessy Montaigne provides many free seminars at nursing homes, senior citizen groups, and local churches. If your group is interested in holding such a seminar, please feel free to contact our office.